UR-SL Advertising
The bridge between first and Second Life!
Second Life is much more then a virtual environment... it's a virtual world with real people, potential clients! For business owners within Second Life, website banner advertising is a perfect way to build traffic and attract new customers. For real world businesses, Second Life is a perfect place to promote your company, website, or product. Just imagine the impact of your ad beeing seen by an average of 50,000 people every day.
UR-SL Advertising is your link between SL and RL! We bring you FULL marketing and advertising inworld and outworld!
Our fully professional staff is waiting to help you with ALL your questions, and you can be sure to find just the right campaigning oppertunities!
Ad Campaigning!
WebVertising / Banners
Our BannerProgram is mainly usable for excisting inworld companies, events, or products. You too can display your banners on one of our banner hosting websites. The growing number of websites displaying our banners make sure your website will be seen by thousands of Second Lifers!

Suitable for both people who want to earn some extra's with displaying banners on their website, as for people who want to advertise.
And we will provide you with a special page on wich you can see your personal statistics, so you can see at any time how your banner is doing...

Click HERE to go to our Banner Pages.
---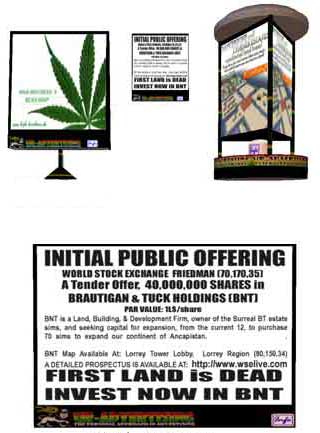 Ingame Billboards
Second Life is so much more then a virtual environment only... it's a virtual world with real people, and a real economy. People buy and sell and excist in this world every day. For those who own a business within Second Life, website advertising.

Our Billboard advertisement projects enables your product to be seen inside Second Life's hotspots for the lowest prices possible! We use 2 different price plans for this service, one for inworld ads, displaying only advertisements for companies or products that are delivered in the game, and one for Real Life advertisements, linking to websites or product pages on the internet.

Suitable for Inworld businesses as real outworld companies with no connection to Second Life.

Click HERE to go to our Billboard Pages.
---
Ingame Mobile Advertising
One of the most practical ways to advertise your business, most perfect for name branding, is our Secured Mobile Advertising System.
People will walk and fly around in Second Life, showing your ad to everyone they see! This way of advertising truely gives you the HIGHEST possible visability! And, with the higly secured professional scripting of the sytem, we make sure your ad is truely shown troughout SL!

And, YOU can do all your advertising yourself if you wish! We can provide you with your own server, in wich you can setup your own campaigns, or we can do it for you. Your wish is our command :-)

Suitable for Everyone who wants his name to be known in NO TIME.

Click HERE to go to our Mobile Advertising Pages.
---
SL Magazines Advertising
Yet another way to get your product, brand, or event known, but now with a far more targetted audience.
People are reading, and therefor some Second Life Magazines and blogs are a perfect way to get your message across. Our service includes the search for, contact, and negociate advertising rates with the publishers of these blogs/magazines.

Suitable for Inworld businesses who allready have traffic, but are in need of more targeted advertising

Click HERE to go to our Magazines Advertising Pages.
---